How To Settle Your Roof From Damage Caused by Huge Cyclone?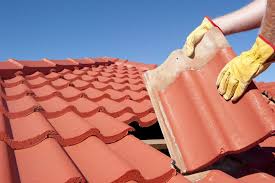 Natural calamities can cause huge problems to the houses. From damaging the structure of the house to breaking shingles to cracked roofs, disasters like cyclones and storms can leave you with a large list of expenses. Refurbishing the roof after massive cyclones becomes a cumbersome task and mending these damages requires professionals alike Fort Worth TX Roofing Pro. In such situations, it will be beneficial to keep these things in mind:
1. Tarping – Living in such weather conditions, most of us are aware of the extreme limit to which the weather can affect our houses. Cyclones cause widespread havoc to anything and everything which comes its way. Once the cyclone has passed, it is wise to first take a quick look at your roof. It is crucial to remember that inspection must be done from a distance to avoid any mishaps and major injuries. There may be a possibility that the outer layer of the roof suffers from major damages or the damage might be on the concealed layer. Moreover, there is always a risk of after effects.
To minimise such damages, it is in generally advised by contractors to get the tarping done as soon as possible. Tarping shields your roof temporarily from external damages till repairing is done.
2. Hiring The Top Contractors – When in doubt, go for the experience! It is always safer way to deal with your roofing Leaking problems. A roofing company in Fort Worth which has numerous years of experience in its hands should definitely be preferred over a recent on. The one with experience will provide better guidance at each and every step.
3. Get Your Insurance Claims – Insurance claims saves us from a high percent of the repair expenses. Therefore, it is in your benefit to get these claims from the insurance companies as soon as possible. The processing of companies is usually quite slow especially after a major cyclone since a large number of people file for getting insurance claims. There can be cases where the company approves lesser claim than you had expected. So, seek help from professional contractors who can guide you in filing for the claims making sure that you get the maximum possible benefit.
There are numerous things which needs to be taken care of after the storm ends. The chosen, experienced and safest option is to seek guidance from experts before settling down any major decision.